October 7, 2019
NICIL Communications Unit
–at inaugural Miss Skeldon Heritage Resort pageant
AFTER some three hours of intense competition and sizzling entertainment, 19-year-old Atasha Pantlitz walked away with the inaugural crown of the Miss Skeldon Heritage Resort Pageant on Saturday night.
The pageant, which was held at the Skeldon Heritage Resort, saw a large turnout of persons who came to witness eight ladies vying for the title. The pageant originally had nine ladies, but saw 22-year-old Chovesha Tahal years dropping out.
The event got off to a late start due to technical reasons, but patrons were entertained and treated to a high standard of modelling by the young ladies, who ranged in age between 14 and 23. The eight contestants showcased their stuff as they all competed fiercely in an effort to have the distinction of winning the crown for the first time.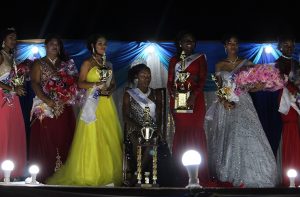 Director-General of the Guyana Tourism Authority (GTA) Donald Sinclair said that he first learnt of the pageant via the media, and immediately contacted the organisers. Sinclair praised the organisers for what he said has been a creative, innovative and timely pageant. Noting how pleased his organisation to be associated with the pageant, he gave his word that come next year, the GTA will be a major sponsor; that they will be working with the resort on expanding and further growing the pageant.
"After reading about this pageant, I said that I must be there, and I brought some additional persons to view the pageant, so that come next year, we can be better able to assist the organisers," Sinclair said, adding: "I believe that such a pageant can really grow, and we at the Authority would allow the winner to be the face and voice for us in this part of the country. Certainly this pageant can grow, whereby it produces tourism ambassadors for Region Six; young ladies who are not only physically beautiful, but young ladies who can represent their region, their village, and say good things about where they grow up."
The event was hosted by the ever-popular Linden Murray, who is also its coordinator and Founder of Heart of Heart.
The eight young ladies competed in Intelligence, Talent, Resort Wear and Evening wear.
INTRODUCTORY
In the introductory segment, Delegate One, 19-year-old Natoya Rawlins spoke about her platform, which centred on teenage pregnancy. The ravishing beauty told the screaming audience that if she were to win the title, her focus would be to partner with a number of agencies and organisers to implement a number of projects and programmes to address the issue. Rawlins stressed that more needs to be done for young girls who, for varying reasons inclusive of financial and otherwise, are forced to drop out of school.
Ishieka Nowrang, an 18-year-old, was Delegate Two, and her platform was mental health, while Delegate Three was 19-year-old Latisha Boyce, whose platform was unity. Her goal, Boyce said, was to bring about increased unity among people in multiracial communities, as there's need for greater togetherness.
Fourteen-year-old Lalita Laljit of Skeldon Line Path Secondary was one of two sisters that competed in the pageant, and the youngest of all the girls.
Her platform was peer pressure, something with which she is familiar as a student, and her advice to the audience was that they guard against losing themselves in their attempt to fit into society.
From the time Delegate Five Atasha Pantlitz introduced herself, she immediately had the crowd going.
The aspiring entrepreneur said that she would like to assist the youths within her community to better believe in themselves. She was also brazen enough to say she was confident of taking the crown that night. And, take it she did!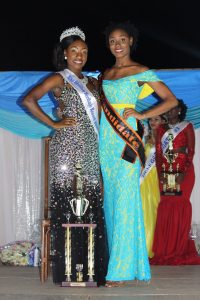 Delegate Six was 16-year-old Felicia Reece, a Fifth Form student of Skeldon Line Path Secondary. Reece, whose platform had to do with suicide, told those in attendance that she will be writing seven subjects at next year's CSEC exams, and because Region Six has consistently recorded the highest suicide rate in Guyana, she would like to use her reign, if she is crowned as the winner, to address this major issue.
Delegate Seven, 15-year-old Renee France, who hails from the Amerindian community of Siparuta but currently lives in Skeldon temporarily so she could attend school, said she hopes to one day return to serve her community as a nurse. She also declared that should she be crowned the winner that night, she would devote her reign to raising greater awareness on Indigenous Peoples, since she feels that enough is not being done to show appreciation for their heritage and contributions to the development of the country.
THE OTHER SISTER
The other sister in the pageant, 15-year-old India Laljit a student at Skeldon Line Path Secondary said that she intends to use her time to aid in addressing a number of concerns. The very confident older Laljit, who, like her sister, was competing in her first pageant, said she was doing it so she could gain some valuable experience and exposure. And since her platform was cultural diversity, she plans spending time encouraging persons to appreciate it more.
The ladies all gave a good account of themselves in the respective categories, with a number of supporters making it known who their favourite was. However, only Delegates Rawlins, Pantlitz, Reece and France made it into the final round.
In answering the final question, which was: What three things would they do to market the resort, while France did her best, the crowd was evidently was not pleased with her response. And while Reece did attempt a response, she seemingly lost track of the question and struggled to answer.
However, she had been very competitive and effective throughout the various categories, and the crowd expressed disappointment in her answer as it was evident that she had ruined her chances of winning the crown. However, when Pantlizt answered the question, the crowd went into an uproar, as they were excited with her sharp and classy answers. However, equally Rawlins supporters went into a frenzy with her response, and as MC Murray announced the results, it was clear the judges' job of identifying a winner was going to be exceptionally difficult. As such, it was no surprise when the points that separated the queen and her first runner up was a mere one point. Many patrons expressed satisfaction with the results and urged the organisers to ensure that such high standard of pageantry remains, while thanking them for the way in how the pageant was judged.
THE PERKS
The queen took home $200,000.00, a weekend for two at the Watooka Guest House, a gift basket, one year free entry to activities and events taking place at the resort, along with a one-year marketing contract with the resort, where she will be their spokesperson and facial image, the first runner up took home $100,000.00, second runner up taking $75,000.00 and the third runner up ending off the cash prizes with $50,000.00. The runner ups also each received a gift basket, one year free entry to activities and events taking place at the resort a weekend stay for two at the Berbice Inn Hotel, among other prizes. The best talent award was won by 1st runner up Natoya Rawlins, while the queen won the best evening gown award. Additionally, all the contestants taking part received a gift basket compliments of Ansa Mc Al Limited. The competition was sponsored in part by NICIL and Ansa Mc Al.
Source: https://guyanachronicle.com/2019/10/07/atasha-pantlitz-takes-the-title