August 11, 2019
NICIL Communications Unit

Berbice Inn
The Berbice Inn Guest House
By Lucria Rambalak and Jared Liddell
IN the Ancient County of Berbice, just a few minutes away from the Berbice River Bridge, you can find New Amsterdam's little paradise, the Berbice Inn Guest House. The two stunning pieces of architecture consist of colonial and modern styled buildings nested at 28-29 Princess Elizabeth Road, Queenstown, New Amsterdam.
The western half of the lot, numbered 28, was defined and designated on a diagram made by James Bone— a Sworn Land Surveyor- dated November 6, 1840. The same building that stands today was erected on July 26, 1849.
This charming guest house would leave one standing in awe just looking at the amazing architecture. With details of pineapple, yellow-lined with fern green trimmings, it is indescribable. When you hear Guyanese describe somewhere saying, "home away from home", you instantly get that sense of comfort and warmth. That's exactly the ambience you feel when visiting there.
Upon your arrival, there is a signboard to let you know that you have reached your destination. A friendly security officer greets you at the gate and attends to your secured parking. Welcoming us with a kind smile was the longest-serving staff member Carlene Blair. She is the manager, who has been working there for over 32 years. We termed her the "house mother," because she is the go-to person. As she sat down with us she took us back on a little history and updated us on what's new with the place.
She said: "It was down for a while but it's coming again. We are working on it right now. It's becoming a home again." The Berbice Inn was previously owned by the Berbice Mining Enterprise Ltd (BERMINE). In 2003, NICIL/PU took over management of the then guest house and the name was subsequently changed to Berbice Inn. Upon the dissolution of BERMINE in October 2004, the property was transferred to NICIL via the BERMINE (Dissolution and Transfer of Assets and Liabilities) Order 2004 and went into operation on October 15, 2004.
Under the former management, the building located on the eastern half was known as the residence of the chief executive officer. The guest house, situated on the western half was originally set up to offer accommodations to government officials primarily on a short-term basis.
Blair went on to say: "I have been here through the good times and the bad times and I have learned from every little thing. Meeting with the guests, I think that's one of the things that I love the most. You know, from the time that they come and you meet them, you give them a smile, you become so friendly with them that you always want to be there."
NICIL transformed and expanded the services to include government officials, private individuals or business people who are travelling through the area and will need lodging for a night or more. In addition, it is also convenient for business retreats involving overnight activities.
The layout
There is a kitchen where the preparation and cooking of meals normally take place. You can either order what you desire or simply leave it up to the chef. According to the "house mother," a favourite Guyanese dish which most guests enjoy is the steamed fish with provisions and stir-fry. Another delicious meal would be the bake and salted fish for breakfast. Their "Buxton spice" mango juice is normally made fresh from the handpicked mangoes in their back yard. Apart from providing meals for its guests, it also offers a restaurant service to the public and a catering service for small or large orders.
With the newly redesigned model, one of the pieces that really stood out was the "dutt" designed bed frame. All of the beds are made from local locust wood, which is known for its strength and durability.
"We were supposed to go to Georgetown and hang out with some family, but we are going to stay here," said one of the current guests, Sharon Mckenzie-Chin. She spoke about how impressed she was, how secure she felt and that her stay so far has been nothing short of excellent.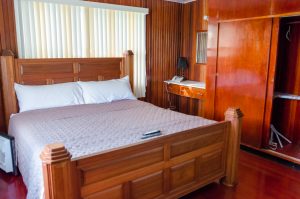 "This is my first time at Berbice Inn…my friend did some research online and found the Facebook page which she then recommended it to my husband and I. We decided to stay for 14 days because we were concerned about good air conditioning, cleanliness, hot water, internet and comfort. The staff are amazing, they are very helpful with giving information, directing me where to go and how to get there. I'm like a newbie, even though I was born here, I left when I was a little girl," McKenzie-Chin said. "I'm such a picky person and I have no complaints. There aren't any mosquitoes, we don't even need a net; the air conditioning works really well. There was a blackout and the generator popped on right away, I just love it here…They are different types of people who like different things. Some may want the posh hotel, some prefer quiet with this real natural kind of look, experience and going into the backyard. You have the overseas guests or people from other places in Guyana. They want to have this, it is so quiet, so peaceful.
Meanwhile, Blair said that the hotel provides a unique experience for everyone. "They should come and stay because it's a home away from home, it's always clean and tidy, we have good meals. Apart from that, Berbice Inn is a real special place, when people come into Berbice Inn it's a memory. They keep coming back or they tell others to come and visit, come and see it for yourself," Blair told the Pepperpot Magazine, as she expressed her gratitude and appreciation to all the guests whom she now considers family.
You can contact Berbice Inn on (592) 333-3344 and email them at nicilguesthouses@gmail.com. Also, you can follow Berbice Inn Guyana on Facebook and berbiceinn_guyana on Instagram.
Source: Guyana Chronicles