September 1, 2019
NICIL Communications Unit
THREE students from Region Six who were part of the region's top five performances were rewarded by the National Industrial and Commercial and Investments Limited (NICIL/Special Project Unit) at a very simple presentation ceremony held at the Regional Education Officer's office on Friday.
The students are Pawan Ketwaro and Chitra Ramdeen, who both scored 520 marks, tying for first place, and Marissa Siriram, who got 514 and was awarded fifth place for the region but third for former and or current workers of GuySuCo.
Despite Ketwaro and Ramdeen being awarded places at Queen's College and Siriram a place at Bishop's High, they opted to attend Berbice High School instead.
The students, who were all accompanied by their mothers, said while they were happy to gain top schools in the country, they prefer to stay at home as it allows them to remain close to their parents and other siblings.
This revelation was made after CEO (ag) of NICIL, Colwin Heath-London, who was accompanied to the presentation by Edward Anderson, indicated that NICIL was prepared to lend assistance in ensuring the students could attend the schools that they had secured at NGSA exams.
The initiative, which is the first by NICIL, sought to recognise students from Region Six who are students of current or past sugar workers. He congratulated the students who all indicated that they have interest in becoming doctors with Marsha indicating her interest in becoming a lawyer someday. He congratulated the mothers for the sterling and significant contributions they have made to their children's life.
Estate Manager of the Rose Hall Operation, Edward Anderson, said he is very proud of the students. He said he is elated to see young Etwaroo in the batch, noting that he knows the child's father, whom he worked with for a number of years before he became an ex-employee.
Anderson said he is happy to see that despite the challenges and difficulties in life, parents are still committed and steadfast in supporting their children's education.
"I want to congratulate you the parents as you are seeing that the sacrifices and investment that you have made are already paying off and let me say that this is just the start as there is more to come because I am confident that these three children in five years' time will be part of our country's top CSEC performers," he said.
Secondary Education Officer, Celeste La Rose, dubbed the performances of the three children as 'outstanding', noting that their parents need to be equally congratulated for supporting them.
"Performances like these it's an indication that in years to come these children will be better able to meaningfully contribute to nation building," she said. La Rose reinforced the point that education is a partnership, stating that NICIL coming on board in providing the kind of recognition that the students require is a demonstration of the partnership that her department seeks.
She thanked NICIL, declaring that it is the kind of partnership that the education department has been seeking and they are very appreciative of it.
"We at the Department of Education, Region Six continue to call for partnerships as education is a partnership and today we are exceptionally thankful for the generous and bold approach by NICIL in establishing such a partnership. It's a partnership that sees the students, their parents and the region benefitting in significant ways and I urge other stakeholders to emulate same," she appealed.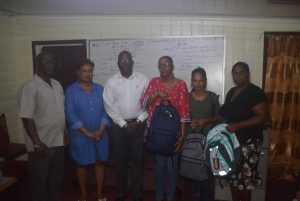 The students were each presented with complete bag packs containing books and stationery items, $60 000.00 to begin saving, a weekend trip for themselves and parents to either Berbice Inn or Watooka Guest House, support with text books and monthly financial contributions to ensure that their transition into secondary school is a comfortable one.
Dubbing the package as dream come through, the parents all expressed sincere thanks and gratitude to NICIL.
They are truly appreciative of the gesture so it would allow their children to study without having to be bothered by the economic challenges facing their families.
"We are not only happy, but very excited today as the things that we are receiving we would have never thought that someone would provide such, and we are really glad for the help as it will go a long way," a NICIL release quoted the parents as saying.
When quizzed as to whether they would prefer to spend the weekend of their choice at Berbice Inn or Watooka Guest House, the parents all opted for Watooka, explaining that they have never visited Linden before, and as such, would love to see the community that they have only heard about.
"I would love for my daughter Marissa to see Linden as we never been there and would love to see the place that we have heard about all our life," Sukhai said.
The parents said NICIL's gesture has given recognition a new meaning as while many have congratulated their children and have assisted them, the long-term and significant support of NICIL is what has wowed them.
"Your education is very important for your advancement personally as well as for the community and the country that you are going to serve, so take it very seriously, this is a wonderful opportunity for self-development as it's a partnership," La Rose declared.
NICIL's Colvin Heath-London congratulated both the students and their parents, stating that as they begin their next journey, NICIL is happy to be assisting them along the way.
"Remember we are on board with you as I am very excited to see our country's children develop. I am very proud of being associated with this initiative and more so because the children are from the countryside as those from the country have to work harder and make greater sacrifices," he said.
He told the students that NGSA and CSEC are the hardest exams that they will ever come across because he stressed that these exams are like the parents themselves are writing it.
"NGSA and CSEC are the hardest exams as no university exam will ever be harder than those because when writing NGSA and CSEC it's like your parents writing it too because of the expectations of you doing exceptionally well," Heath-London said.
Source: Guyana Chronicles