…even after recent, massive upgrade
MONTHS after its massive upgrade, management is mulling expansion of the Watooka Guest House to meet the demands of a growing clientele.
Since its recommissioning, the facility has been experiencing a 100% occupancy rate and was forced to turn down potential guests during these periods.
Manager Rawle Dundas, said that serious consideration is being given to expansion to meet demand. Presently, the facility is having expansion effected to its riverside deck, which has been one of its well-received additions. "Based on the response we have gotten so far, we are already thinking about expanding, because we had a young lawyer from Georgetown who wanted to stay in Linden….we didn't have space and she was not the only one," Dundas said.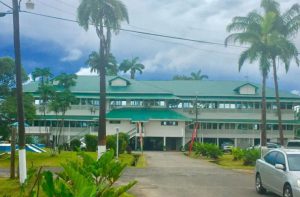 With Linden making tremendous strides in its tourism sector, Dundas posited that the guest house sees itself as being a major player in the future. "We see ourselves as the facilitators of the activation; we see ourselves as being able to afford opportunities to our young people, whether it be people who have craft or agricultural products available because we would want to use local things at 'Watooka'," he added.
The manager affirmed that "Watooka" is open to all and sundry and everyone can have a share, whether it is to earn, accommodation, dining, or touring the facility.
The Watooka Guest House is one of the oldest colonial buildings in Linden that served as a restaurant and guest house in the early 1900s. The massive upgrade included refurbishing of 13 suites, including the Presidential and Prime Ministerial Suites; purchasing of modern equipment, appliances and other amenities; expansion of sections of restaurants, such as the bar, installations of air-conditioning units, lights, WIFI system and cable TV; a complete kitchen makeover, landscaping and general maintenance of the lawns. The entire compound, which also boasts a pool, a decorative lawn and garden, has been extensively improved. The roof, windows, pool, fence and gate, among other things, were also modernised.
In addition to the new deck, other added amenities include a fully furnished annexe that comes with all modern amenities. This is located opposite the guest house. In an effort to boost its hospitality service, a plethora of new services are also now available. These include collaborating with tour agencies to ensure guests enjoy a full experience of Linden, a private lounge, a membership scheme, security escorts and transportation services, as well as catering for private, small and large events, among other things.
Opposite "Watooka" is a centennial park which features the old railway station with locomotive as walking draglines that were used in the earlier days of bauxite mining. These were also spruced up as part of the upgrading project.
Source: https://guyanachronicle.com/2019/11/20/expansion-in-pipeline-for-watooka-guest-house