DEAR EDITOR,
The reason for this letter is to put on the record the sincere thanks and gratitude of the families of the three scholarship awardees that were recognized by Minister Winston Jordan and his ministry as a result of the 2019 NGSA Region Six performance. We would like the Minister to know of how sincere and happy our children are for his genuine and generous assistance in supporting our educational pursuits.
As the father of Pawan Etwaroo, who had tied for the number one spot in Region Six, I would also like to say thanks twice as it was a result of the very helpful and caring attitude of Mr. Colvin Heath-London, NICIL/SPU CEO that resulted in me gaining employment as a security guard at Albion Estate after I lost my job with GUYSUCO. I must confess that I was very depressed and heartbroken after I was paid severance and after investing same in rebuilding the humble home that my wife and son occupied, I was struggling severely due to the fact that finding employment was a challenging task for me.
It was during a frank discussion that I requested some assistance from Mr. Heath-London as I related the grave and at times unbearable hardships that my family and I were experiencing. I subsequently gained employment and must say that as a result of Mr. Heath-London's generosity and assistance I have been able to provide for my family, thus helping me to keep us all happy.
I confess that I was moved to write with the other families to do this letter as a result of the excellent and fantastic weekend stay that we were rewarded to at the Watooka Guest House. It must be noted that none of us have ever been to Linden and have never stayed in a hotel of this magnitude and class. Therefore, you can understand how excited, thrilled and captivated we felt as we were blown away by the very high fantastic and very comfortable hotel and experience that our children benefited from.
Further, the various tours to several educational and historical places and sites in Linden further enhanced the educational knowledge of our children as we were able to dismantle several myths, while replacing them with facts. We would like to express to Minister Jordan that our tongues are too short to justly express how thankful and happy we are to have been able to see a different part of Guyana, while being educated on the still many rich and breathtakingly beautiful places that exists in this country. I would like to say that as a father, seeing the beautiful smiles and deep appreciation from the faces of the children tell us a really great story and I would stress that it is one that will forever be remembered.
Although I was reluctant to go on the trip, it afforded us a firsthand experience of Guyanese hospitality irrespective of one's race, colour, religious views and most importantly cultural and heritage. We had a grand time and left Watooka Guest House with the understanding that Guyana has a lot to offer and the experience that we gained while on this weekend trip was certainly worth more than anything else in the world that money can buy.
Editor it's important to add that the financial assistance being provided to our children by NICIL/SPU is greatly appreciated and continues to play a critically important part in enhancing our daily lives. While I am fortunate now to have a job, like the father of Chitra who is the only breadwinner in their home, Marrissa is not this fortunate as her mother is only able to work one and sometimes two or three days a week. I am aware that while Chitra's family and I have smaller families, Marissa's mother is saddled with four children with one preparing for CXC this year and a daily challenge of finding transportation money to send her children to school. It's no secret that it's worst for them. However, we are all happy and pleased that the monies being given to us respectively is being stretched to do additional things to further reduce some of the grave and unbearable challenges that we are faced with.
I would like to confirm on behalf of my wife and son Pawan and also on behalf of Chitra and Marrissa that they will continue working exceptionally hard to maintain high and very impressive grades. As such, this will ensure that Minister Jordan and Mr. Heath-London and all of the other staff at NICIL/SPU remain proud of their academic growth. I can assure the Honourable Minister that in some years' time these three individuals who were once seen as poverty stricken and financially incapable to supporting themselves through school because of the grave challenges faced by their respective families, would be prominent individuals who would have used poverty to prosperity as their motto in succeeding.
On behalf of the three families I would like to say once again thank you to Minister Jordan and similar thanks to Mr. Colvin Heath-London.
Regards,
Anand Kumar Etwaroo
Source: Kaieteur News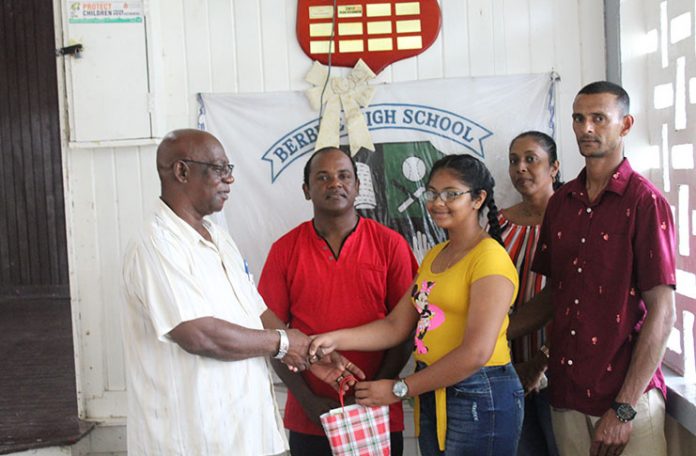 THREE students who were each awarded the first NICIL NGSA scholarships for 2019 were all rewarded by the company for once again excelling at their Christmas Term exams. The students, who are all attending Berbice High, each scored over 70% at their exams.A company press release said that the scholarship was instituted by their CEO, Colvin Heath-London after Minister of Finance Winston Jordan felt that something tangible should be done to reward the children of former and or present GUYSUCO workers in Region Six (East Berbice-Corentyne) who would have done exceptionally well at the 2019 NGSA.
The minister had given the required approval, thus setting the establishment of the NICIL/SPU Region Six NGSA Scholarship into effect. The students, who all made Region Six's Top Five, were awarded with school supplies and a monthly stipend of 50,000.00 each.
The students, Pawan Etwaroo and Chitra Ramdihal had both topped Region Six, while Marissa Siriram had come in fifth. However, while they were all placed in different Grade Seven classes, Ramdihal achieved 83% with Sirinam gaining 76.8% and Etwaroo 74.6%. The students were all elated to have scored over 70%, and promised to improve their performances next term. "Etwaroo also was able to make his school's Under-15 cricket team, confessing that he has a deep passion for cricket. He, however, promised to balance his love for cricket and books, thus ensuring that his grades will remain impressive.
At the simple presentation ceremony, NICIL Rose Hall Berbice Estate Manager, Edward Anderson said that the company was very excited to once again be rewarding the students. He said that their investment thus far in the three children is certainly paying off, as it is evident that with the required financial and other support, they can certainly achieve their set academic goals. "When we decided to invest in these children, [we] recognied that it was the right thing to do, as they were evidently faced with challenging financial difficulties. As such, we felt that such a scholarship programme would have further enhanced their academic ability, as it is a known fact that some students are unable to perform to their highest potential because of financial difficulties facing their homes," Anderson said.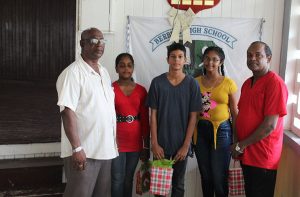 Mr. Anderson, with Marissa Siriram, Pawan Etwaroo and Chitra Ramdihal and their DHM Mr. Basodeo Utam
The Rose Hall Berbice Estate Manager reiterated his company's commitment to continue lending valuable support and assistance to the three students, urging them to be cognisant that their performance would help in reaffirming NICIL's belief that they are worthy of financial and other support. "All we at NICIL expect of you is to do your best, and we are already aware that you three are high-flyers. So, continue the trend of excelling, as we are definitely confident of you going on to achieve your set dreams. Guyana will certainly be a better place with three top professionals in some years' time," he declared.
Meanwhile, Deputy Headmaster of Berbice High Basodeo Utam congratulated the students for what he said were excellent performances. He declared that he, along with the rest of the school's teaching staff is impressed with the conduct and performances of the three students, singling our Etwaroo's elevation into the school's cricket team. "We are aware of Pawan's cricketing ability, and we intend to continue lending support to him as he continues to excel in both sports and academics. While Chitra is leaning towards the arts, we recognise that Marissa is a very shy young lady, but we are confident that before the end of the academic year, that they both would also be deeply involved in extra curriculum activities," the Deputy HM said.
As part of their reward package, the three students will be spending the weekend with their parents and siblings at the Watooka Guest House, while they would be touring several places of interest in Region Ten (Upper Demerara-Berbice) next weekend.
Source: Guyana Chronicle